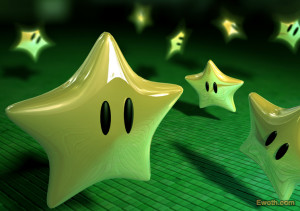 It was a sad day in Ewoth Land yesterday. Tears were shed, grown men fainted, well not really…but we had to remove our old "Thumbs Up" word-rating feature and widget. It was just a temporary feature, though, in preparation for the bigger site development phase that we are now experiencing.
The 5-Star Rating system you see on the website now is much more robust and comprehensive. It also gives us more control over the display, widget sorting, and page placement. Visitor feedback is an enormous part of the Ewoth Dictionary experience, so we hope you'll rate some older words and continue to rate the new ones as they're added.
Star ratings are also a good segue into the topic of vulgar words. Let's look at some of the funniest and most popular comedians of past/present – George Carlin, Bill Cosby, Steve Martin, Richard Pryor, Jerry Seinfeld, Eddie Murphy, and Louis C.K.  Some keep it clean and barely graze profanity, while others have taken vulgarity to a level that can make people cringe in disgust. The point here is that their speech, the words that they use, represents the reality of our culture.
Ewoth Dictionary will have its fair share of vulgar words, and to not include them would simply make the database less real, less comprehensive. Our magical editorial staff will help present these words to make them more palatable and understandable to the average joe, and that's yet another reason we're unique. And with our new rating system, you now have 5 different ways to choose how much you like/dislike the word!