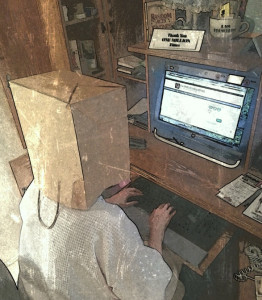 A central focus at Ewoth Dictionary is giving credit to word creators. That being said, we do not force people to expose their name on the specific word page at the website.
As you'll find on the Submit Page at ewoth.com, you can simply write "anonymous" in the entry field "Full Name For Credit". Your word will still have a time stamp with Digiprove seal, and you can see an example for the word Hairpants.
At any point in the future if you build up the courage to expose your name, maybe after your latest self-help seminar, all you have to do is contact us. We save all original word submissions, so all we have to do is refer back to it and update the page.
If you ever see "unknown" listed as the credit, as seen for the phrase Baby Goggles, it means we don't yet know who created the word/phrase. Unknown credits usually arise when we come across a great word/phrase in our online research, and there is no evidence shown of the person who created it. As the popularity of Ewoth Dictionary grows, the "unknowns" will decrease. Have an excellent day!